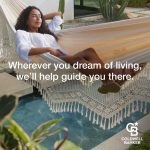 Everyone wants to find their dream home – and younger Americans are putting those dreams into motion with many reporting plans to sell their homes soon. According to Coldwell Banker's latest survey conducted online by The Harris Poll, 44% of Gen Zers (age 18-25) and 35% of Millennials (age 26-41) are planning to sell their homes in the next 12 months.
We set up potential home sellers for success with our latest Dream ad campaign and website refresh, which makes sure sellers have the right tools to list confidently. With the CB Estimate℠ tool, we now make it easier for potential home sellers to find a free, instant online estimate on their home – no strings attached. With the proprietary Move Meter℠, we set no bounds on where dreamers' minds can take them as they compare various data points to evaluate a move from one place to another, including: housing affordability, quality of life, job market strength and living affordability.
The question remains: How can agents meet consumers where they are to uncork the listings?
Consumers view social media as a key to a good agent
One way for agents to set themselves apart in this changing market is by leveraging social media platforms to reach consumers. The Coldwell Banker survey found that 61% of Americans believe that good real estate agents make use of social media apps including Facebook, TikTok and Instagram to advertise their services and showcase their listings. Millennials particularly appreciate agents who are active on social media, with 65% reporting that they think more highly of real estate agents with a strong professional social media presence.
Findings also reveal that these expectations remain consistent across generations. The survey found that 59% of Gen Zers, 65% of Millennials and 58% of Gen X agrees with the sentiment that social media use is an indicator of a good real estate agent. And before you say, "But what about Boomers?" the survey also found that 60% of Baby Boomers agree with this sentiment.
Coldwell Banker makes it easy for agents to become influencers in their space, we provide the marketing tools they need to effectively promote listings and get home sellers the best deals.
Coldwell Banker makes dreams come true
Coldwell Banker just launched its Dream ad campaign, designed to get homeowners to dream about moving to that place they've always thought about. Complete with a refreshed ColdwellBanker.com that includes tools like the CB Estimate℠, Move Meter℠ and the Seller's Assurance Program, all designed to focus on what sellers need to make listing their homes seamless. With the CB Estimate℠, home sellers can get a free, instant online estimate of their current home. The Move Meter℠ is a proprietary tool built to help people dream differently by comparing various data points to evaluate a move from one place to another, including: housing affordability, quality of life, job market strength and living affordability. While the Dream ad campaign kickstarts those dreams, arming sellers with efficient tools and knowledgeable agents is what puts those dreams into motion.
Visit the new http://www.coldwellbanker.com/ to learn how our agents can make your dreams come true and get the most value for your home.
Survey Methodology
This survey was conducted online within the United States by The Harris Poll on behalf of Coldwell Banker from February 3-7, 2022, among 2,012 U.S. adults ages 18 and older, among whom 1,309 are homeowners. The survey is not based on a probability sample and therefore no estimate of theoretical sampling error can be calculated. For complete survey methodologies, including weighting variables and subgroup sample sizes, please contact dgorecki@gscommunications.com.
Source:  CB Blue Matter blog